Who wears it better? Paris or Kim K's Louis Vuitton Multicolore Keepall 45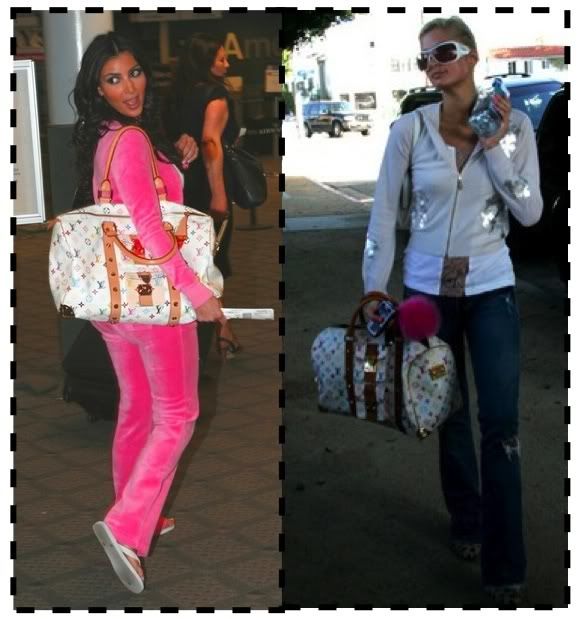 Hmmm… so here we go.  You know I always feel kind of bad playing this game- especially when one "player" obviously looks better than the other.  But this one I can do!
So, what do you think?  Who is wearing the Louis Vuitton Multicolore Keepall 45 better?  Unapologetic, amateur sex tape star and semi-celebutante Paris Hilton, or Unapologetic, amateur sex tape star and semi-celebutante Kim Kardashian?
I'm definitely more into Keeping up with Kim on this one.  Her Juicy track suit looks great with her skin-tone AND all the pinks in the multicolore.  That Keepall is striking and the vachetta looks fresh.
Paris looks like she needs an upgrade.  I know it's a dark picture, but the leather on her bag  looks like it's been around the block a couple of times.  (Which I guess makes sense, for Paris' luggage.)   We'd love to help her out!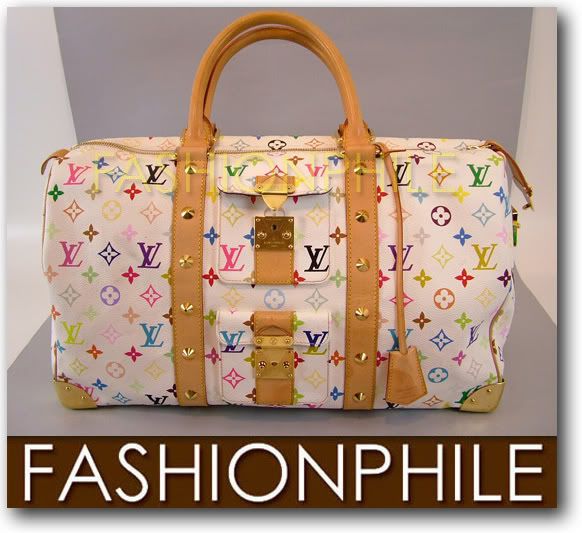 We have an authentic, pre-owned white multicolore Louis Vuitton Keepall 45 (the only size Keepall available for the Multicolore line) on eBay right now!  It's a gorgeous bag with a ton of pinks and purples right up front where we like them!
Of course, Paris could pick up a new Keepall down the street, at the Rodeo Louis Vuitton for $2000 (well, I guess till yesterday when they unveiled their latest price increase).  Unfortunately, it's sold out on Eluxury right now.