Who Wears it Better? Hilary Duff or Sara Jessica Parker's Louis Vuitton Limelight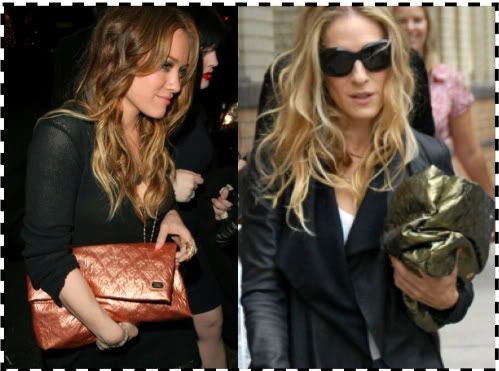 It's interesting because Hilary Duff and Sara Jessica Parker have totally different styles, are different ages, and wear their Louis Vuitton limelight way differently. I mean, it hardly looks like the same bag.
Hilary wears her copper Limelight like a clutch- but folded over and polished.
But, if you didn't know what you were looking at- you could mistake SJP's bag for a crumpled up sack.
I like the softness of this light, quilt-y bag- but I personally wouldn't wear it like that. It's interesting, because I have several pictures of Sara Jessica Parker with her Limelight- and she wears it in a similar way in all my pics. I mean, it looks like you can not only see all her stuff- but that, it's gonna tip over and we're going to see the contents pictured in next weeks US Weekly.
I'm going with Hilary on this one.  I think she looks put together, but also fun, fresh and interesting.  What do you think?
If you're loving her look- be sure to check out the authentic pre-owned copper Louis Vuitton Limelight that we have listed on eBay right now! It's a great price for a great piece… take a look!