If Louis Vuitton hates the Darfur shirt, they're gonna freak when they see the LV Electric Chair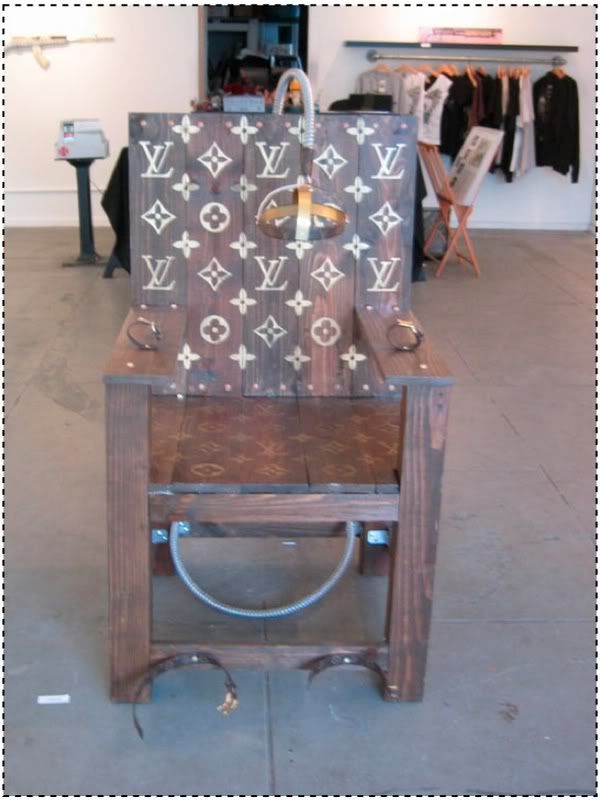 (Electric Chair listed at $4500: See the rest of the pics below…)
It seems like there is almost a movement of artists "appropriating" the Louis Vuitton logo in their work.
The thing is that IMO LVMH has two problems with the Darfur shirt:
Who the heck wants to be connected to Darfur? LVMH, I'm sure doesn't want any association with the atrocites going on over there.
The bag that she's pictured on her shirt is a fake: "confusingly similar" to a Louis Vuitton Murakami Multicolore. From the Cease and Desist letter that LVMH send Nadia Plesner:
"Although we applaud your efforts to raise awareness and funds to help Darfur, a most worthy cause, we cannot help noticing that the design of the Simple Living Products includes the reproduction of a bag infringing on Louis Vuitton's Intellectual Property Rights, in particular the Louis Vuitton Monogram Multicolore Trademark to which it is confusingly similar. We are surprised of such a promotion of a counterfeit bag."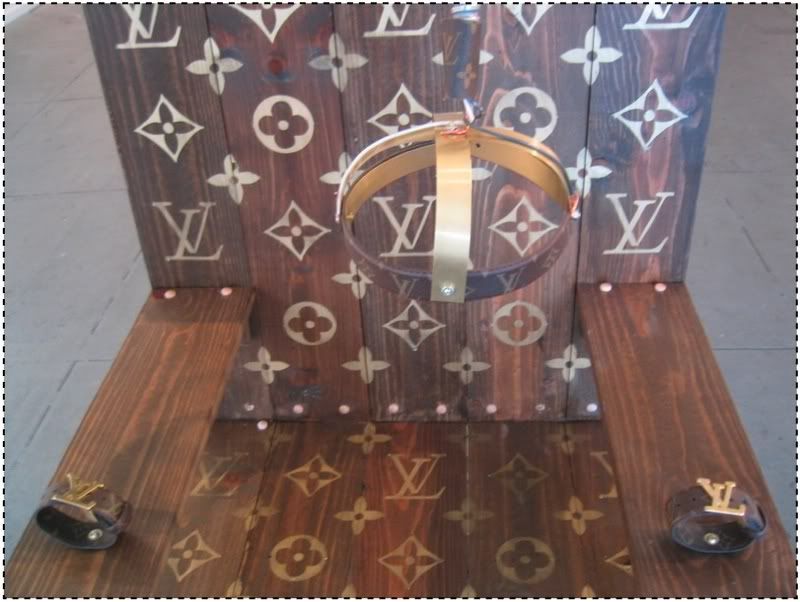 (Notice the Canal Street bracelets as cuffs)
So- now we've got Peter Gronquist's blinged out, urban warfare gone Canal Street. I can't imagine that Louis Vuitton would be pleased.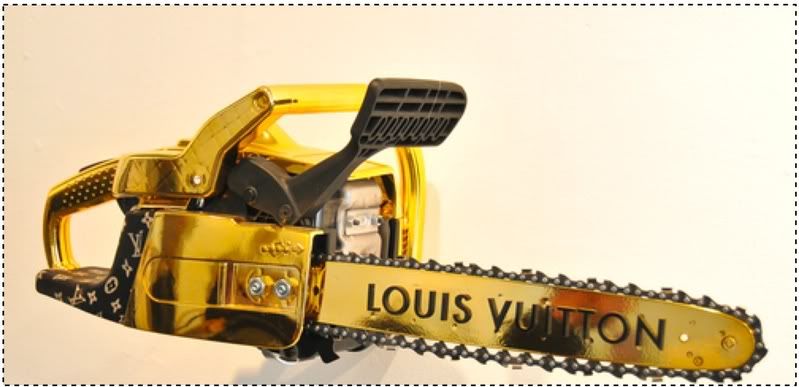 (Chain Saw sold for $3250)
Gronquiest's exhibition, "The Revolution will be Fabulous- A Weapons of Mass Designer Show" opened Friday night at Gallery 1988 in Los Angeles. This is I guess a commentary on not only commercialism, but the luxurization of everything. (Think Prada Phone, Chanel or Gucci Bicycle, Louis Vuitton Teddy Bear.)
He didn't leave anyone out…. you'll find rifles, artillery shells, granades, glocks, machine guns and for whatever reason- a Gazelle decked out in Louis Vuitton, Hermes, Chanel, Gucci, Fendi, Coach, Prada, Versace, Dior, D&G and Burberry.

(listed at $3500)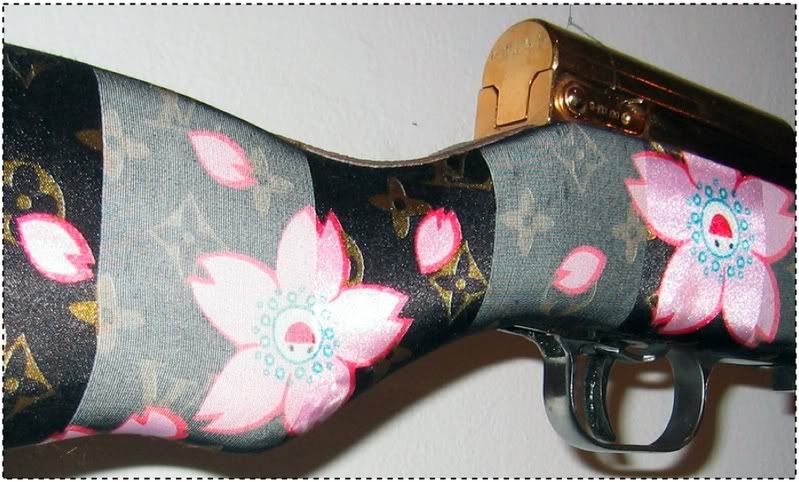 (Notice the tell-tale striping)
Gronquist used counterfeit scarves to cover these items, as is clear from the close-ups. (Louis Vuitton never made scarves with that striped effect, but they're common in fakes.)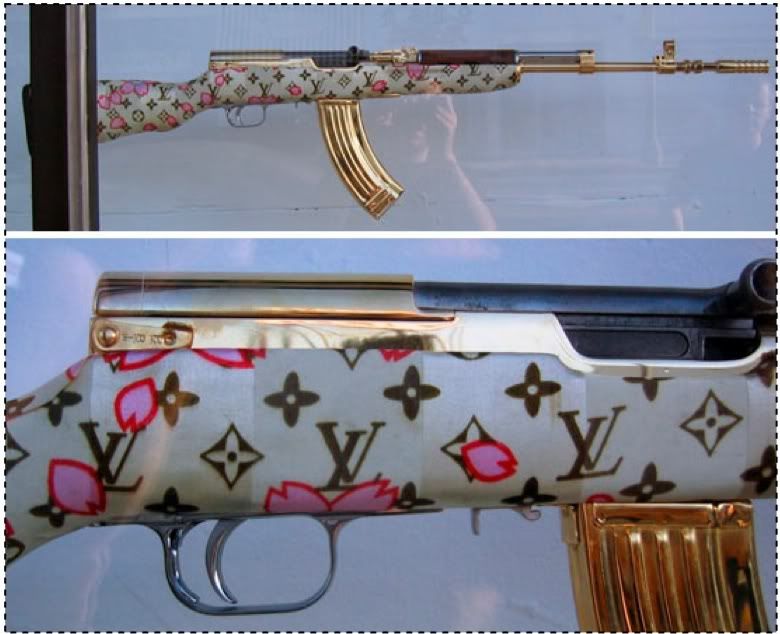 (Again with the striped scarf- this one sold for $3500)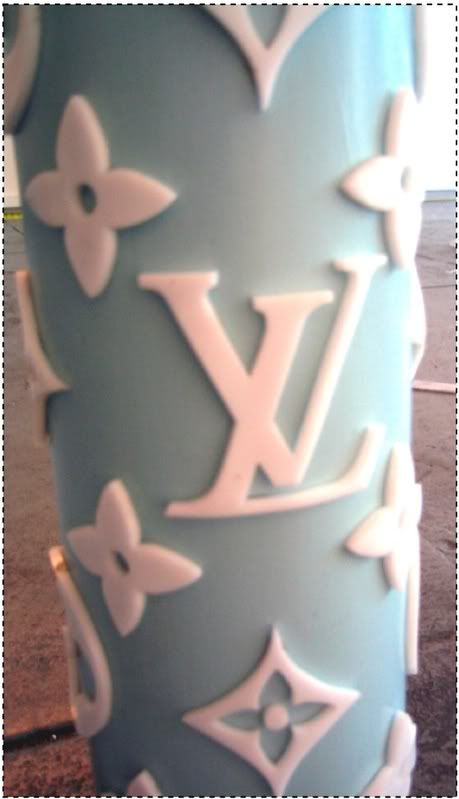 (Artillery Shell- this one sold for $800)


(Blinged out Multicolore Murakami)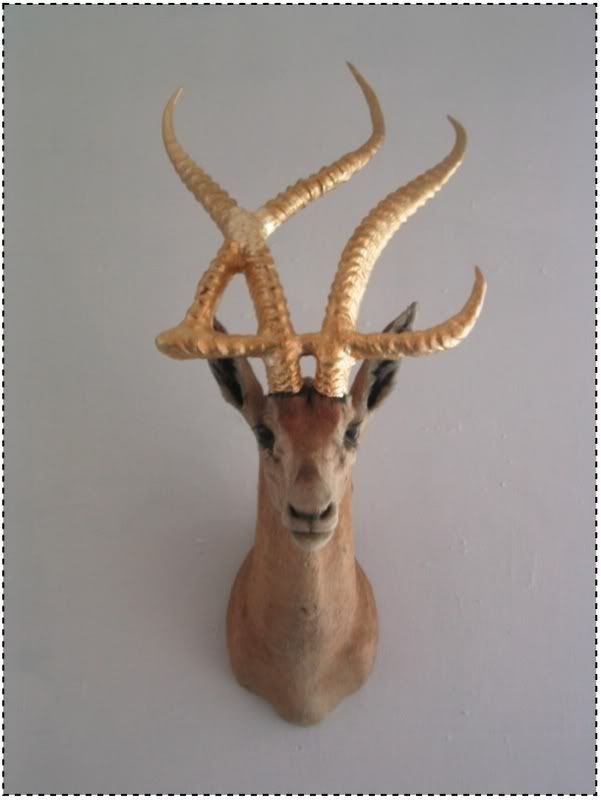 (No comment on the LV antlered Gazelle)
Hmmm, wonder if Louis Vuitton's gonna send Gronquist the same love letter that they sent Nadia?