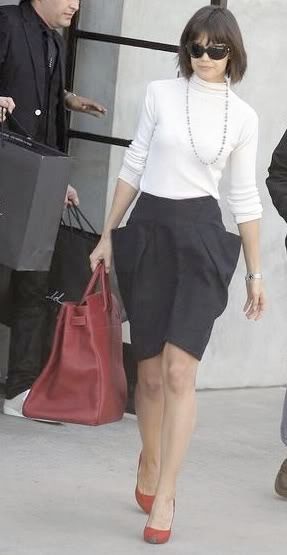 **
Love this article from today's Wall Street Journal about the huge bags everyone is wearing!
It made me think of the fab Red Hermes Birkin that Katie Holmes carried while Christmas shopping this year.
I love this quote from the article referring to a New York chiropractor/ American Chiropractic Association spokesperson:
Karen Erickson… estimates that the number of purse-related injuries and sprains she treats has risen 30% in the past year.
No wonder… ARGH, my aching back!!!
** By the way, Katie's Birkin is actually a travel bag- but maybe she's using it as a shopping tote- (ya know, the environmentally friendly alternative to those pesky plastic shopping bags!)
If you're looking for one cheaper than retail… do I have the tip for you! We had the chance to meet a client of ours- Francis Elisio, who owns Des-Voyages in the fabulous antique district/ flea market in Paris this Christmas. This is NOT your grandmother's flea market. There was literally stall after stall of authentic vintage Louis Vuitton and Hermes, Chanel etc! Walls lined in trunks and travel bags. It was amazing.
Check out his stuff here: Des Voyages.  If you are in the neighborhood- drop on by!  Tell him your friends at FASHIONPHILE sent you, and see if he as any of our trunks on stock!!!